"Mommy's here."
"Mommy loves you."
"Mommy will get you something to eat."
"Mommy will change your diaper."
"Mommy thinks you're ready for a nap."
"Mommy needs a nap."
"Mommy wants to know when Daddy will be home!"
It's so funny. We all do it. And I know we're actually supposed to, though I forget the psychology behind it.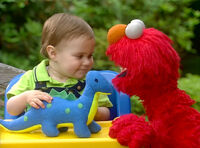 Still, we sound very much like Elmo.
And at what point do we change over and start teaching our children about the art of the personal pronoun? Carrie wonders . . .
Now Carrie would like to ask a question: At what point is it ridiculous to refer to yourself in the third person to your child? Surely it's sometime before "Mommy will really miss you while you're off at college."